LAOTIE ES18P je pravdepodobne najlepšia kolobežka do 1000€ na trhu. A prečo? Ponúkne ti enormnný výkon, zlepšenú batériu s dojazdom aj 100km (za určitých podmienok) a perfektný pocit z jazdenia bez ohľadu na terén
Aktuálne ju kúpiš za skvelú cenu na overenom čínskom eshope Banggood. My ti prinášame jedinečný kupón, ktorý cenu tejto kolobežky zníži na 934 €. Doručenie kolobežky trvá približne 35-50 dní avšak určite nebudeš platiť colné poplatky, máme to mnoho násobne overené.
Enormný výkon v oboch kolesách
V každom kolese sa nachádza motor s maximálnym výkonom až 2800W. Vďaka takémuto výkonu sa maximálna rýchlosť tejto kolobežky môže pohybovať aj viac ako 85km/h. Banggood túto vylepšená verziu Laotie ES18P ponúka v prevedení s cestnými alebo terénnymi gumami., ktoré sú pneumatické (obsahujú dušu).
Vďaka celkovému výkonu až 5600W zvládne táto elektrická kolobežka sklon aj 50 stupňov. Ak je pre teba takýto výkon príliš veľa, tak sa pozri na túto alternatívu v podobe Laotie ES10.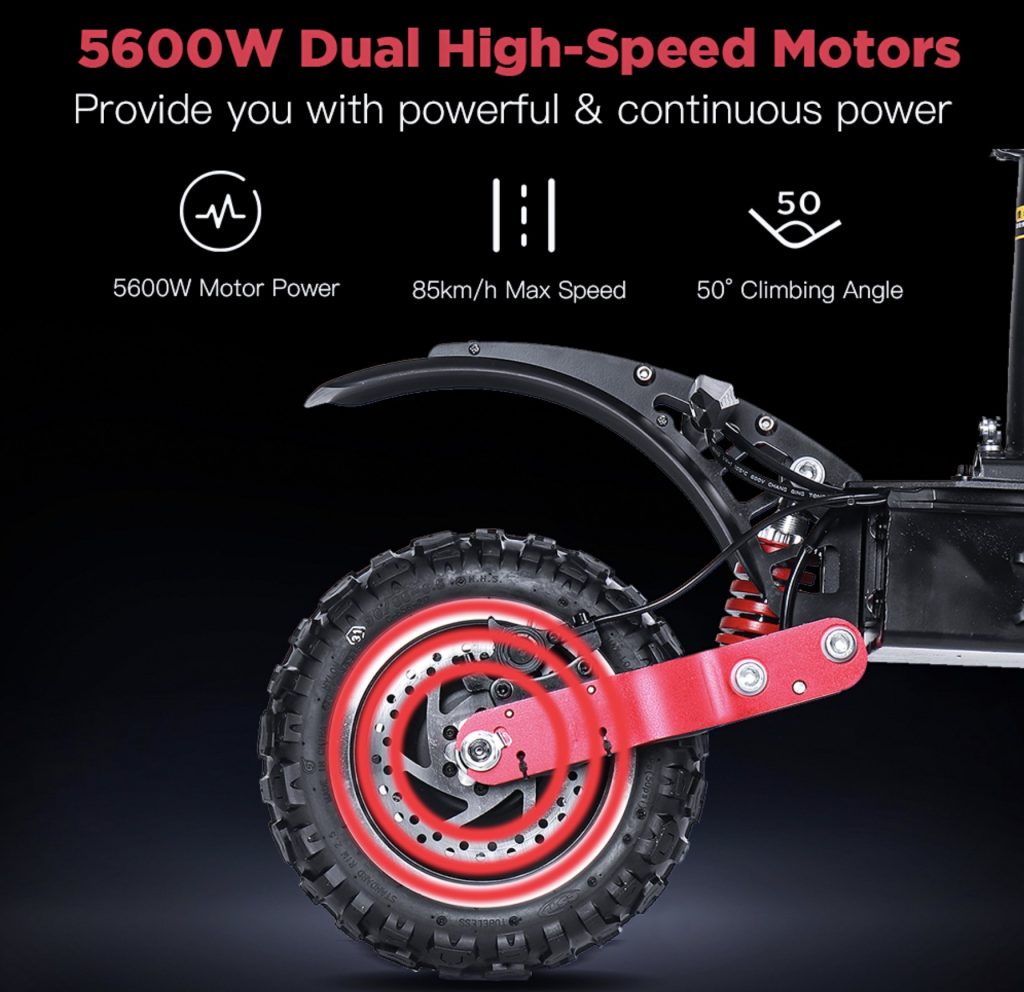 Laotie ES18P ma predovšetkým vylepšenú batériu
Táto batéria je vybavená novšími článkami typu 21700 60V, ktoré nesú celkovú kapacitu 33,6Ah (pôvodná verzia disponuje 31,2Ah batériou). V praxi by to malo znamenať zlepšenie priemerného dojazdu približne o 10km. Za určitých okolností (váha jazca cca 70kg, rovinatý terén a jazda v ECO mode) by mohol byť dojazd tejto kolobežke aj viac ako 100km. A to už je naozaj skvelé pre kolobežku s cenou pod 1000€.
POZRI SA NA NAŠU RECENZIU LAOTIE ES18
Kvalitná hliníková konštrukcia a robustný rám
Vďaka kvalitnej konštrukcii z hliníka a kovu, dokáže táto elektrická kolobežka uniešť záťaž až 200kg. Ani pri jazdení s DUAL motorom aj pri ťažšom jazcovi, tejto kolobežke nebude robiť podať kvalitný výkon. Bonusom je aj kvalitné prevedenie sklápacieho mechanizmu ako aj sklápanie riadidiel. Vďaka tomu bude pre teba transport kolobežky omnoho jednoduchší.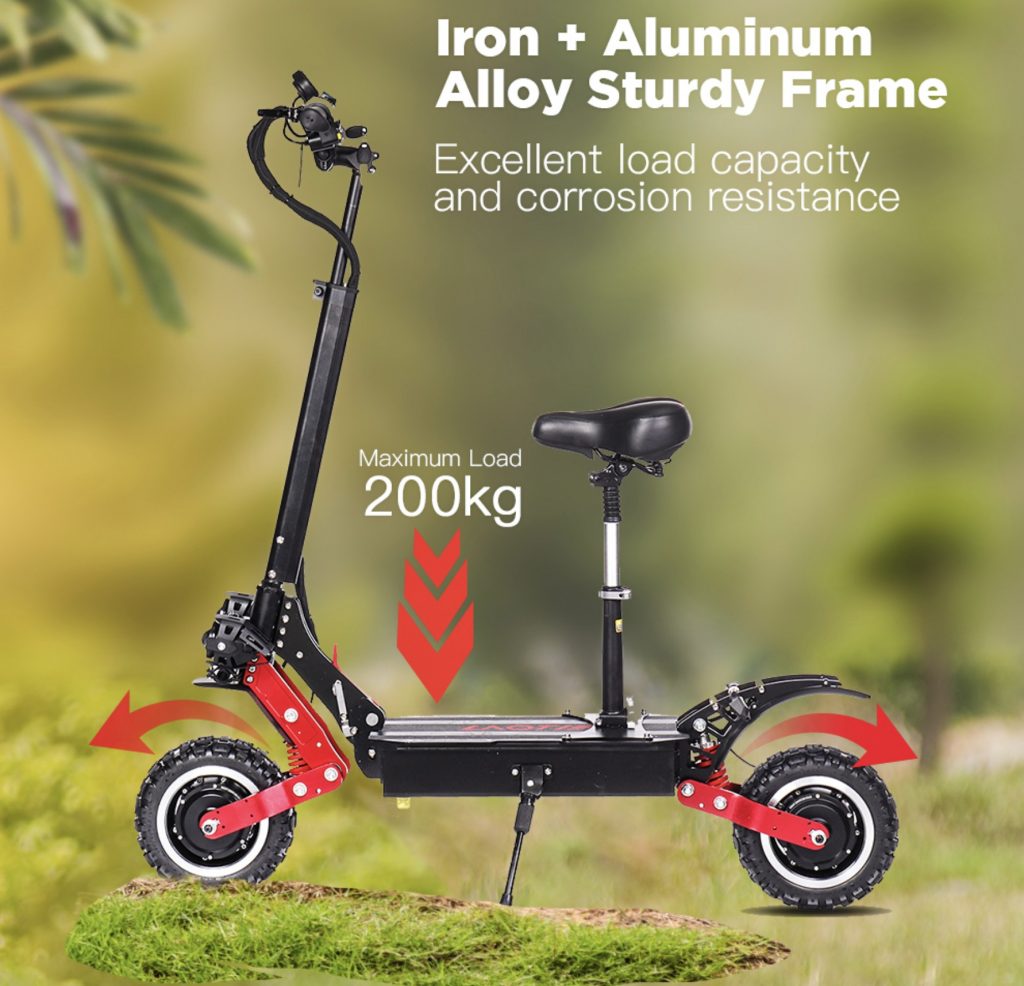 Kvalitné a nastaviteľné odprúženie
Výhodou tejto elektrickej kolobežky je nastavenie predného aj zadného tlmiča. Či už preferuješ tvrdšie alebo mäkkšie pruženie, môžeš si to jednoducho nastaviť. Ďalším benefitom pre teba môže byť aj to, že tieto tlmiče vieš celkom jednoducho vymeniť za kvalitnejšie alebo tvrdšie/mäkkšie.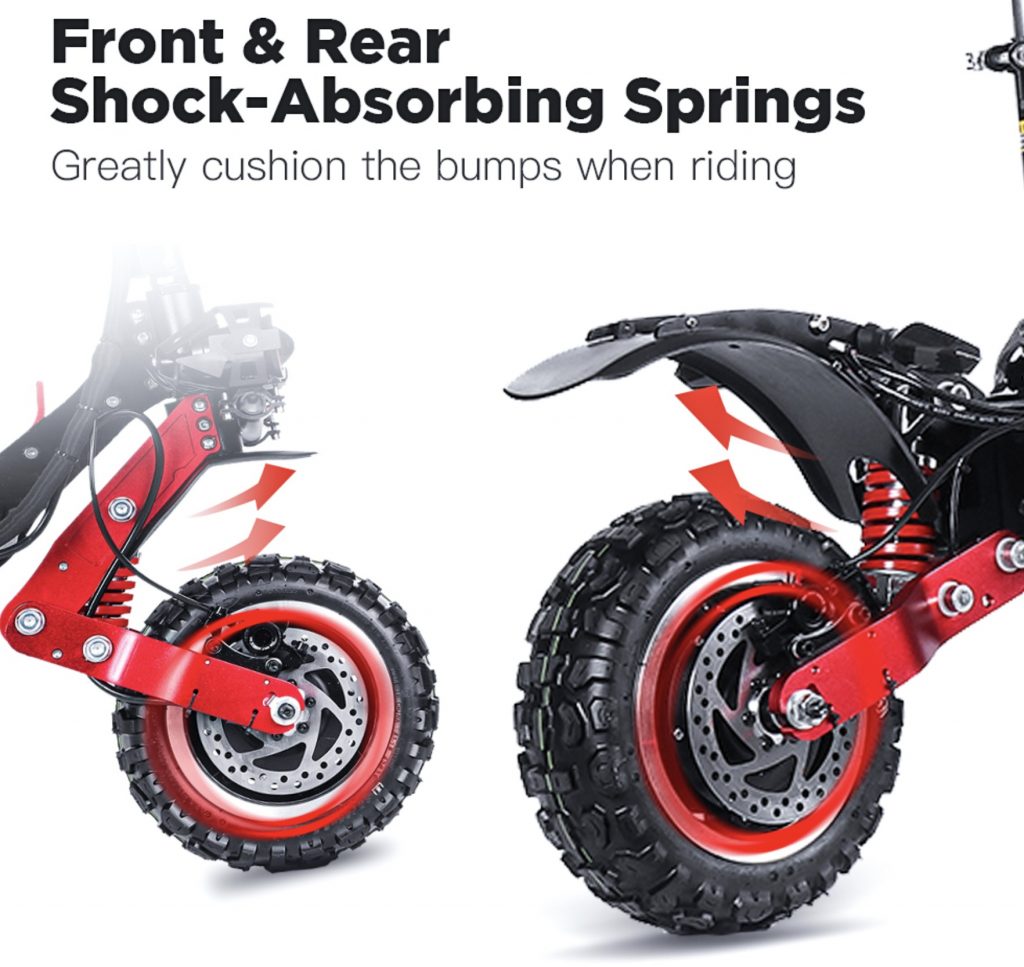 Dvojitý systém brzdenia u Laotie ES18P je bezpečný
Čo to vlastne znamená? V prvom rade táto kolobežka obsahuje kvalitné hydraulické brzdy, ktoré najmä pri vyšších rýchlostiach oceníš. Dokážeš aj veľmi efektne nastaviť sili brzdenia. Okrem hydraulických bŕzd, tu máme aj elektronickú brzdu, kde tiež vieš nastaviť intenzitu brzdenia.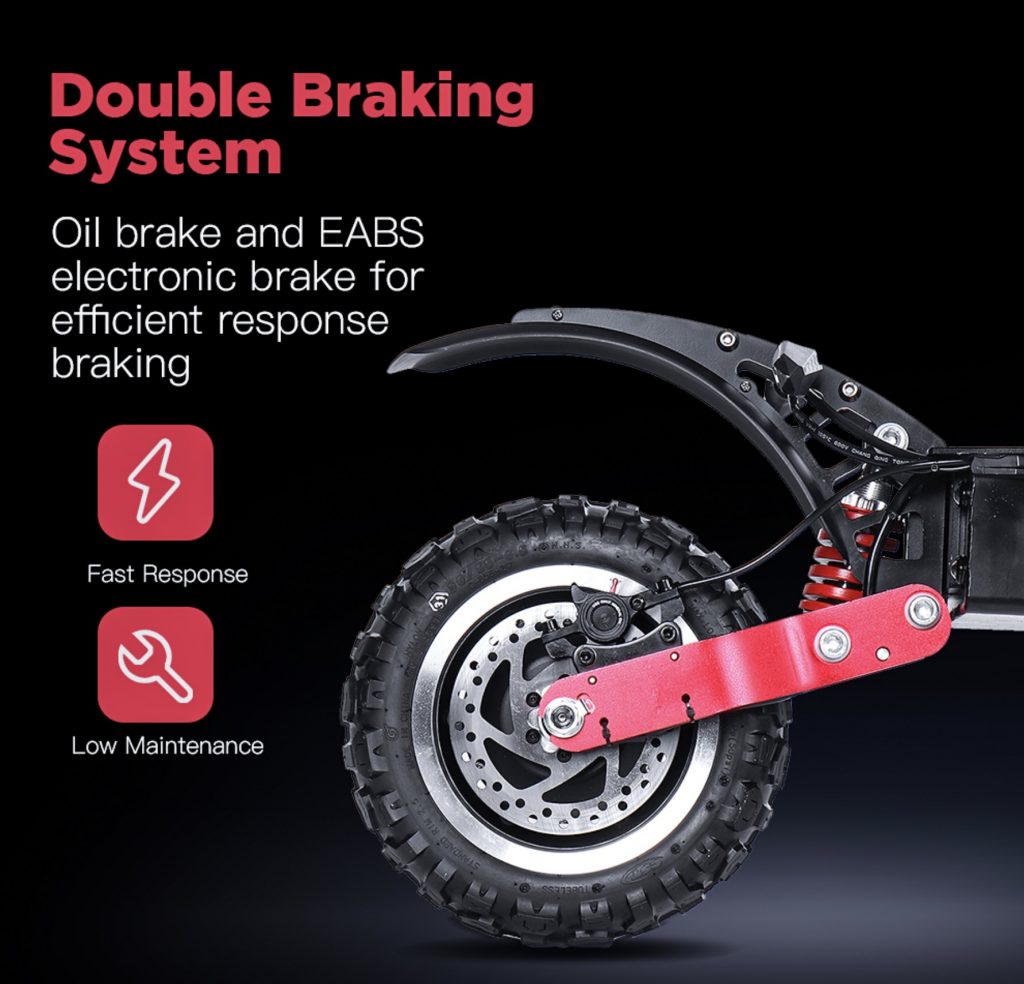 Svetlá a smerovky pre tvojú bezpečnosť
Kolobežka disponuje naozaj kvalitnými prednými svetlometmi, ktoré dokážu osvetľovať až do niekoľko stoviek metrov. Okrem nich, na zadnom kolese nájdeš pre bezpečnosť určite dôležité smerovky, škoda len, že ich výrobca nepoužil aj vpredu. Okrem smeroviek nájdeš vzdau aj brzdové svetlá, ktoré svietia načerveno.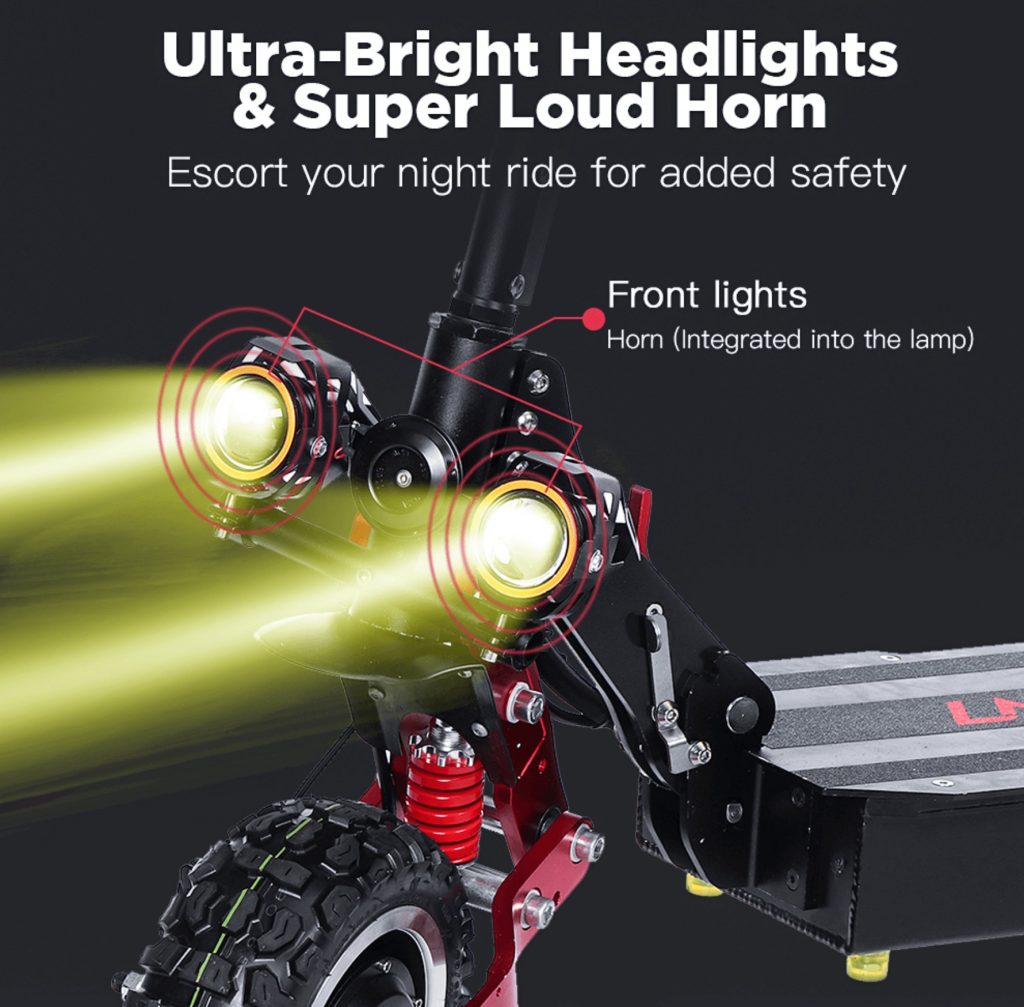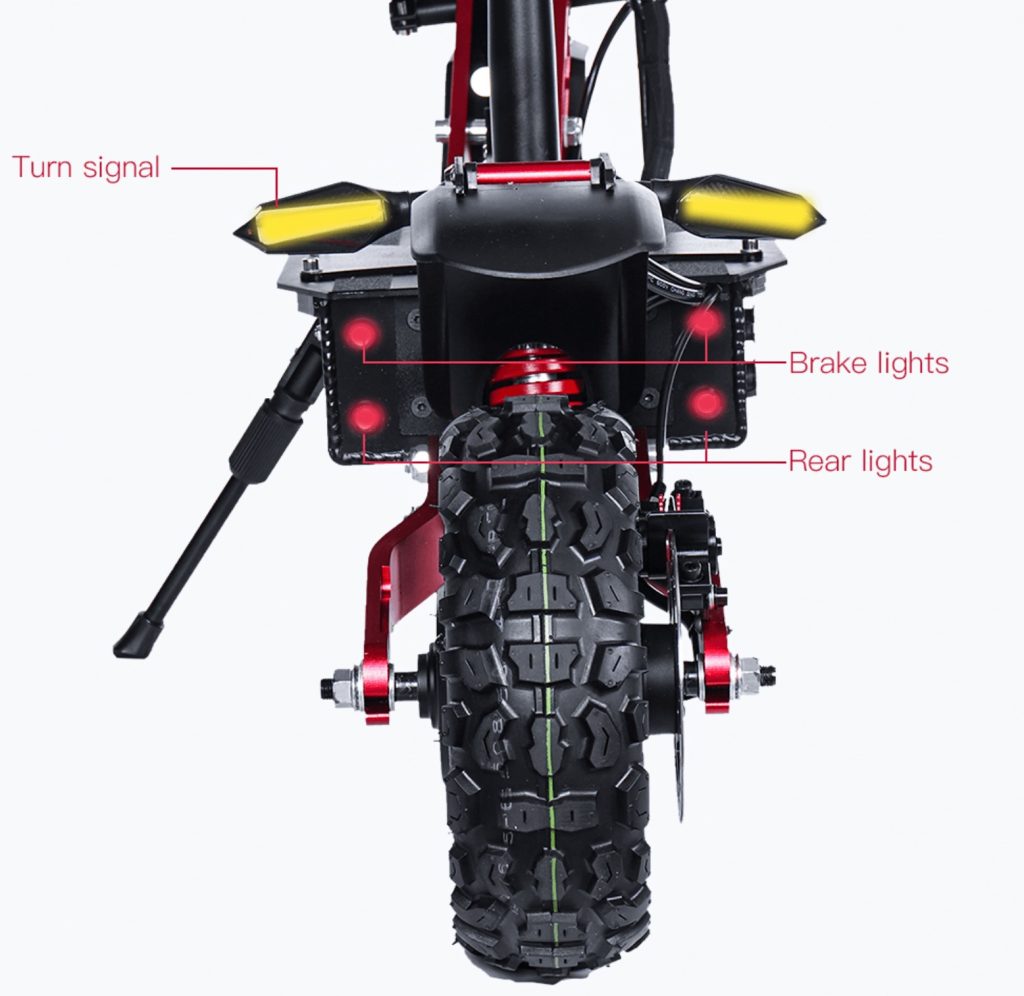 Vstavaný SMART displej zobrazuje dôležité funkcie
Displej ti ukáže, okrem rýchlosti, aj ako dlho trvá tvoj výlet, aktuálne prejdené kilometre ako aj celkovú prejdenú vzdialenosť na elektrickej kolobežke. Displej v ľavej časti (kde sa vkladá aj kľúč) znázorňuje počet voltov a teda v akom stave je batéria, toto je dôležitý údaj kolobežka sa vybíja približne pri 50,5V. Displej v pravej časti ma ešte jednú zauímavú funkciu, že zo spodnej strany je možnosť pripojiť USB kábel a teda pomocou kolobežky dokážeš nabíjať svoj smartfón 🙂