Boyueda je skvelá čínska kolobežka s nezvyčajným až 5600W výkonom v oboch kolesách. Poskytne 11″ terénne bezdušové pneumatiky a dojazd na úrovni 60-80km. Za cenu pod 1000€ je to jedna z najlepších kolobežiek na trhu.
Jedinečný kupón zrazí cenu na 899EUR
V spolupráci s populárnym čínskym eshopom Banggood sme pripravili unikátny kupón a túto beštialnu kolobežku môžeš mať len za 1160 EUR. Doručenie je zadarmo a bez colných poplatkov. Skvelou správou je doručenie z Eu skladu do 3-10 pracovných dní.
Boyueda ma predovšetkým enormný výkon
V každom kolese sa nachádza až 2800W motor. Banggood síce na stránke ma uvedené, že kolobežka má celkový výkon 5400W a 2700W v každom kolese. My sme však túto kolobežku testovali a zistili sme, že výkon je skutočne 5600W. Pri DUALnom režime (zapojenie oboch motorov naraz) je zrýchlenie a akcelerácia neskutočná.
Výrobca použil namiesto klasickej dušovej pneumatiky bezdušovú. A táto vlastnosť ma príjemný benefit v tom, že ak dostaneš defekt, nemusíš dávať koleso dole, jednoduchou sadou s knotmi opravíš defekt behom pár minút.
Táto e-kolobežka ma nasadené terénne 11″ pneumatiky s priemerom 100mm. Tie sa postarajú o bezpečnosť a komfortnú jazdu pri vyšších rýchlostiach.
Kvalitné hydraulické odprúženie vpredu aj vzadu
O príjemnú jazdu po nespevnenom teréne sa postará kvalitné hydraulické odprúženie. Predné koleso sa upína do vydlice, ktorá ma zdvih 100mm. Z vlastnej skúsenosti môžeme povedať, že odprúženie na prednom kolese je dosť mäkké. Aj keď ma síce kolobežka nosnosť až 200kg, pri jazcoch nad 120kg odporúčame doliať kvalitnejší hydraulický do prednej vydlice.
Hydraulické brzdy + EABS
Boyueda disponuje naozaj kvalitným brzdením. Aj pri vyšších rýchlostiach dokáže brzdiť kolobežka dobre a bezpečne práve vďaka hydraulickým brzdám. Samozrejme treba si zvyknúť aj na citlivosť bŕzd, prípadne si ich podľa potreby nastaviť. EABS (elektronické ABS) pomôže, najmä vo vyšších rýchlosťiach brzdiť plynulejšie.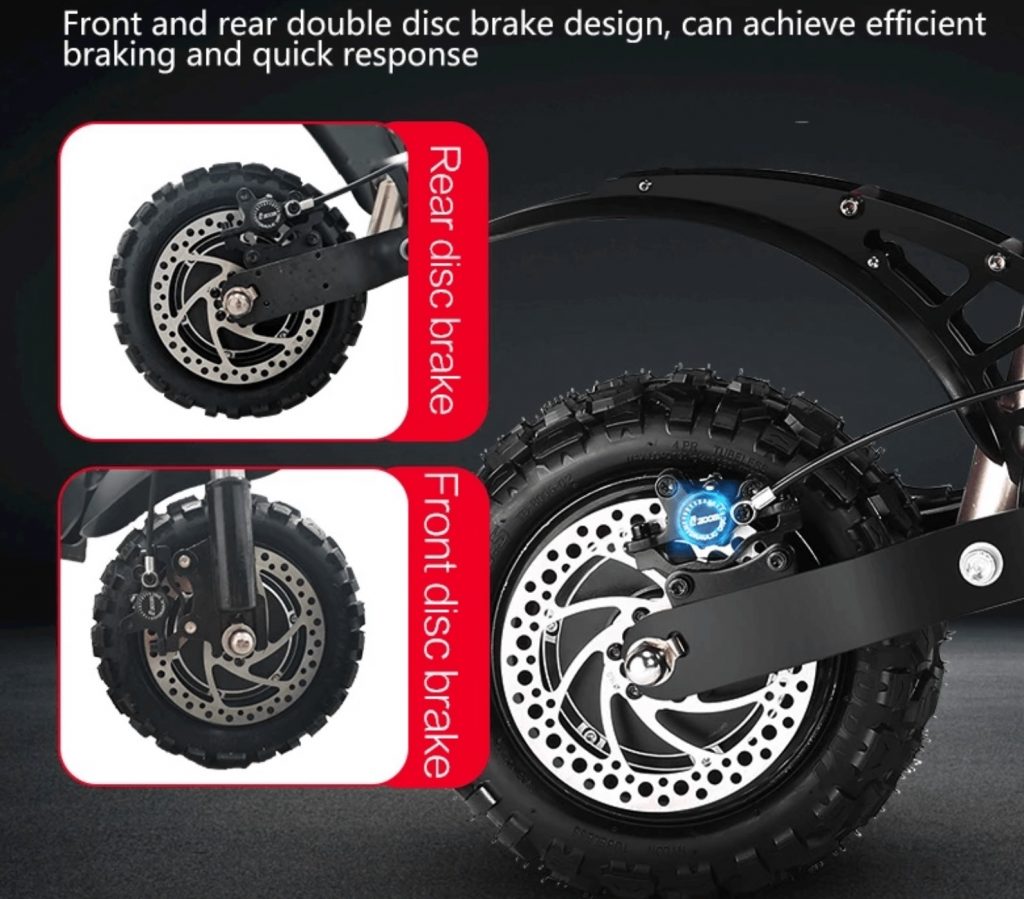 POZRI SA NA NAŠU YOUTUBE RECENZIU
Boyueda ma aj celkom unikátne zabezpečenie
K boyuede dostaneš aj dvojicu alarmov. Tie vyzerajú ako alarm od garážovej brány. Keď kolobežku uzamkneš a ktokoľvek s ňou začne hýbať, rozozvučí sa alarm. Ten je umiestnený priamo v dekli. Je to zaujímavý a celkom unikátny spôsob zabezpečenia. Škoda len, že alarm nieje o niečo viac hlasnejší. A samozrejme, bez tohto "alarm kľúča" nebudeš môcť naštartovať túto kolobežku.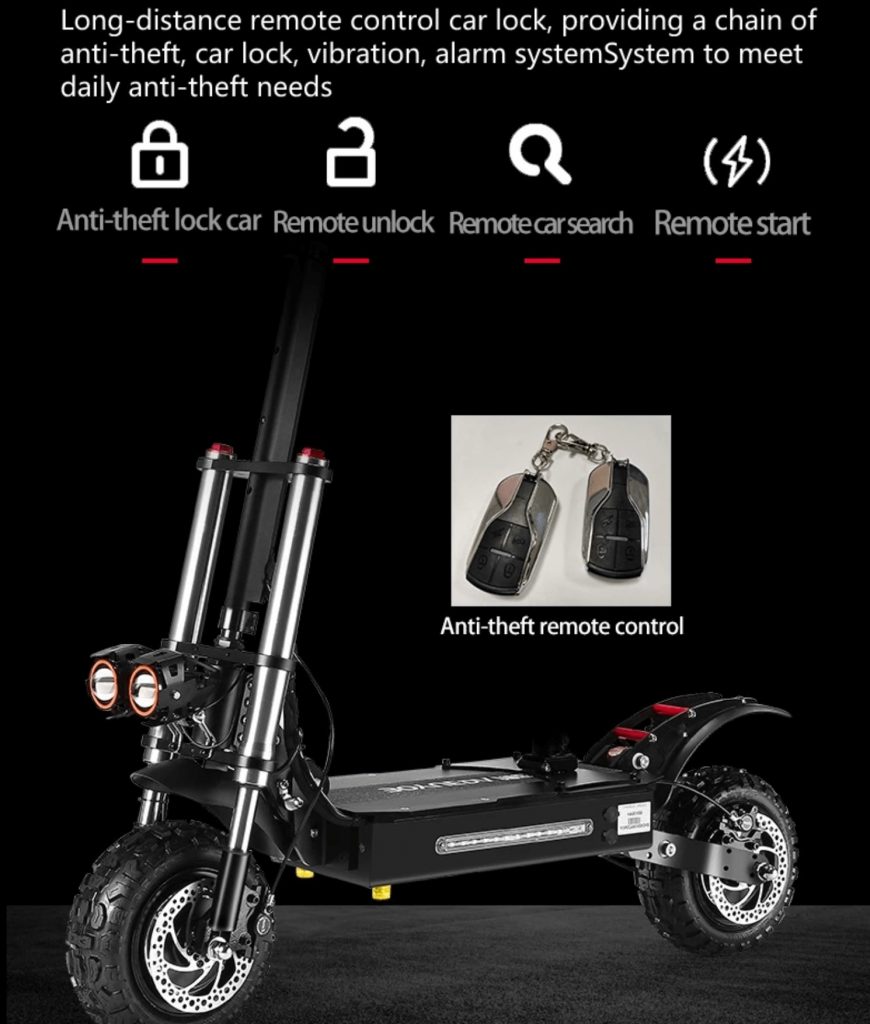 Kolobežka disponuje aj veľmi kvalitným svietením, vrátane zadných smeroviek. Okrem toho je po oboch stranách umiestnený približne 30cm LED pásik. Ten je farebný a mení farby tak, že ťa večer tvoje okolie bude dostatočne vidieť.
Dojazd a maximálna rýchlosť
Na dojazd, ktorý udáva výrobca môžeš určite zabudnúť. Reálny dojazd 100kg jazca pri rovinatej ceste a v ECO móde môže byť maximálne 85km. Ak si ľahší alebo ťažší, tak tento dojazd sa určite bude meniť.
V balení nájdeš dve 3A nabíjačky, s ktorými nabiješ elektrickú kolobežku približne do 6 hodín. Maximálny prúd, ktorý do kolobežky môžeš dať je 8A. Nabíjačky majú činske adaptéry do zásuvky ale výrobca posiela rovno EU redukcie.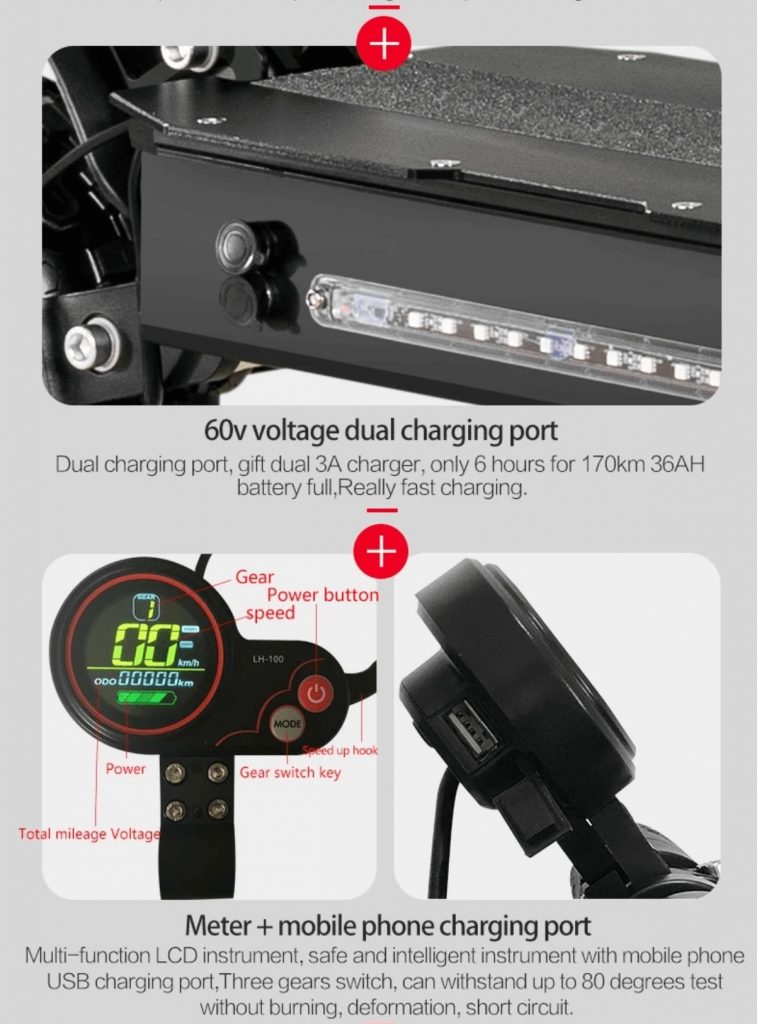 Boyueda ma rozhodne silný výkon a rovnako tak aj rýchlosť. Maximálna rýchlosť, ktorú môžeš dosiahnúť je 85km/h. Ale rýchlosť sa dá regulovať aj na 25km/h. V každom prípade je opatrnosť na mieste. Nielen pre teba, ale aj pre ostatných účastníkov cestnej premávky.
Kolobežke nechýba aj možnosť nainštalovania sedadla. Tá je v balení spolu s nabíjačkami. Sedadlo sa perfketne hodí na dlhé 50-60km trasy.