Laotie ES10 je kompromisom medzi malými a veľkými elektrickými kolobežkami. Svojou veľkosťou by sa mohla zaradiť medzi menšie a výkonom zase medzi veľké kolobežky. Ponúkne ti parádny dojazd na úrovni 80km a výkon 1000W v oboch kolesách. To ti zaručí, že ťa táto kolobežka odvezie všade, kam potrebuješ. Ak ti je ale 2000W málo tak ťa možno osloví iná silnejšia e-kolobežka s výkonom až 5600W a to Laotie ES18P.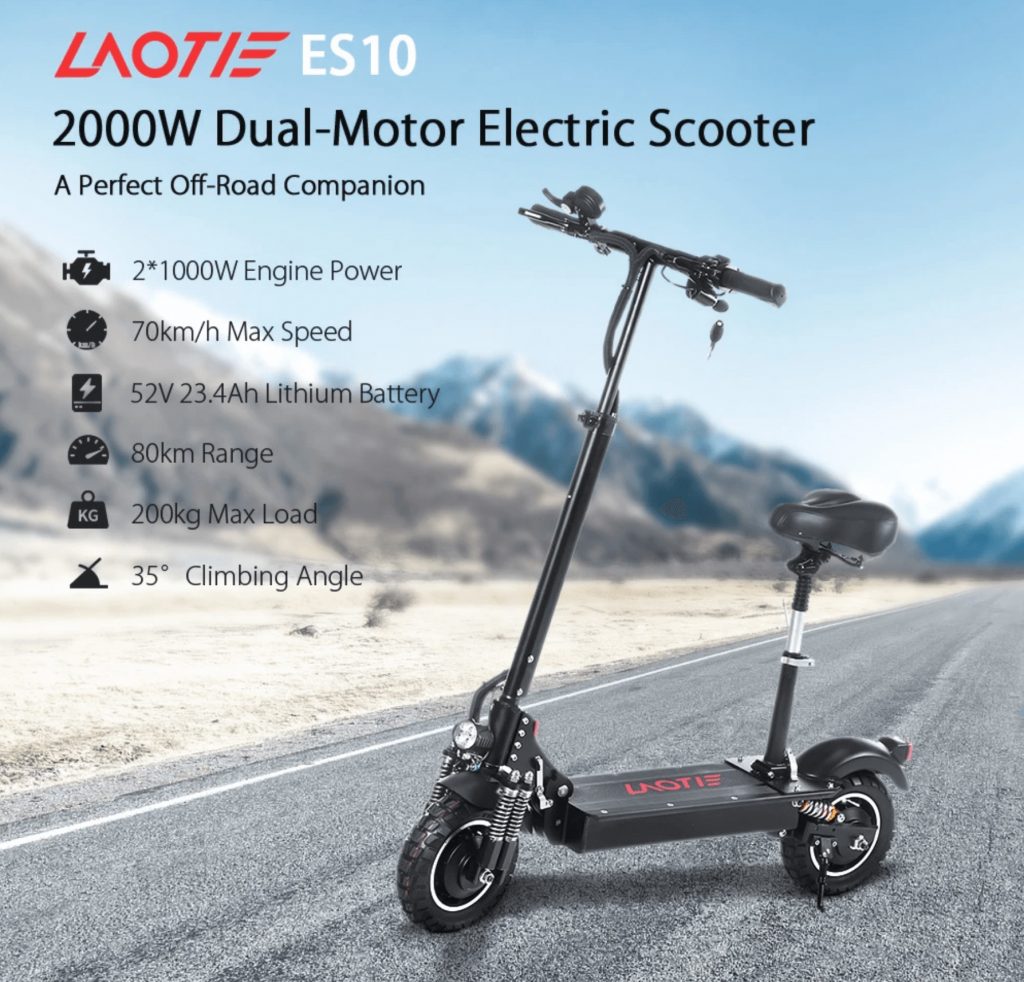 Parádna cena a rýchle dodanie na EU sklade
Laotie ES10 kúpiš u populárneho eshopu Banggood a my sme si pripravili pre teba perfektný kupón, ktorý cenu zrazí na 743 € z pôvodných 898 €. Táto cena je vrátane nákladov na prepravu.
Pozri sa na náš unboxing a predstavenie LAOTIE ES10
V prvom rade vysoký výkon
Vysoký výkon tejto kolobežky nájdeme v oboch kolesách. V každom kolese sa nachádza až 1000W motor, ktorý zabezpečí, že kolobežka pôjde plynulo a rýchlo bez ohľadu na terén.
Vďaka celkovej sile 2000W, táto kolobežka dokáže vyvynúť maximálnu rýchlosť približne 70km/h. Takže sa dokážeš pretekať aj s autami, ale samozrejme toto rozhodne neodporúčame 😎
Vďaka už spomenutej sile v oboch kolesách dokážes s touto kolobežkou prekonať uhol stúpania až do 35 stupňov.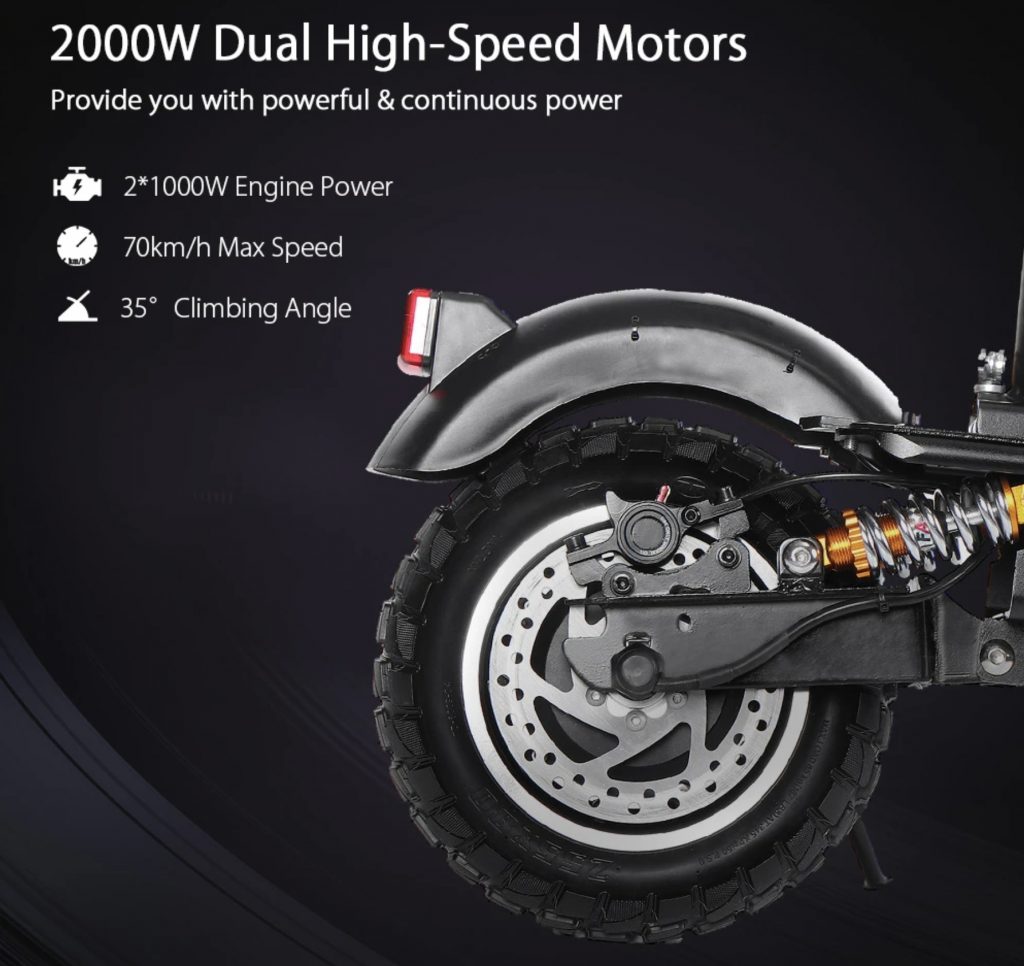 Kvalitná hliníková konštrukcia a robustný rám
Vďaka kvalitnej konštrukcii z hliníka a kovu, dokáže táto elektrická kolobežka uniešť záťaž až 120Kg. Ani pri jazdení s DUAL motorom aj pri ťažšom jazcovi, tejto kolobežke nebude robiť podať kvalitný výkon. Bonusom je aj kvalitné prevedenie sklápacieho mechanizmu ako aj sklápanie riadidiel. Vďaka tomu bude pre teba transport kolobežky omnoho jednoduchší.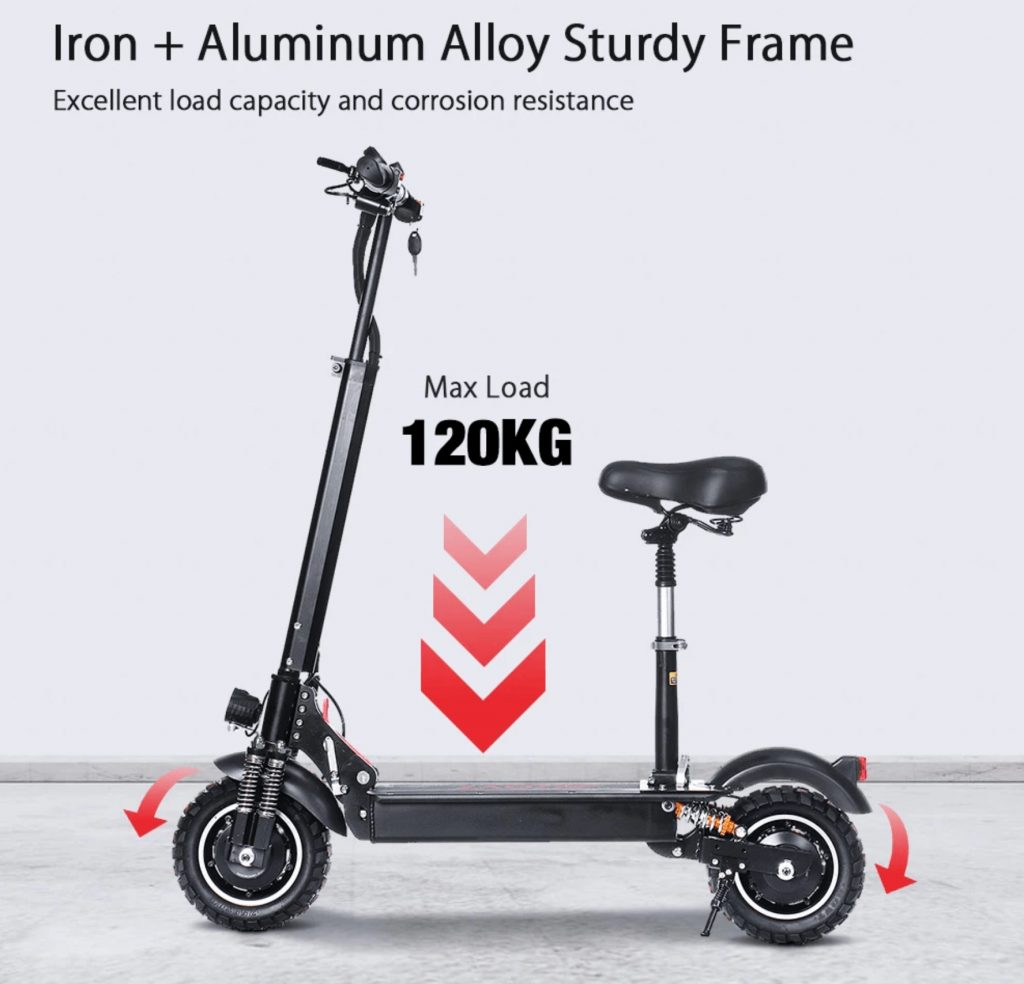 S veľkou batériou môžeš pri Laotie ES10 dosiahnúť maximálny dojazd až 80km
Batéria v kolobežke Laotie ES10 má kapacitu až 23,4Ah 52V. To znamená že pri ideálnej váhe 65kg a rovnej ceste v bezvetrí môžeš dosiahnúť maximálny dojazd (v ECO móde) okolo 80km ✅.
Ak vážiš viac, tak dojazd môže byť na úrovni od 40-70km, v závislosti od štýlu tvojej jazdy, resp. od terénu. S pribalenou 2A nabíjačkou, ktorá ma mimochodom EU adaptér budeš nabíjať túto kolobežku približne 8hodín.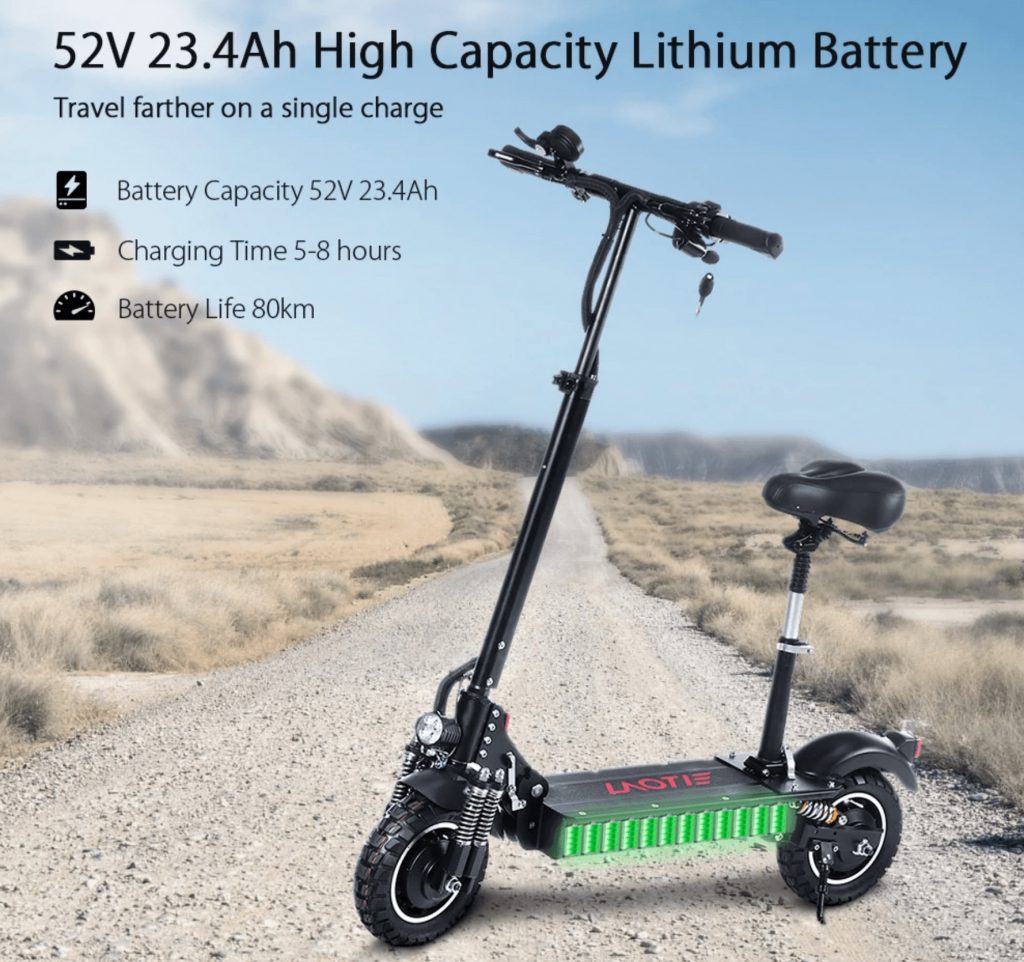 Pneumatické 10″ kolesá
Výrobca obúva na túto elektrickú kolobežku 10″ terenné kolesá, čo z tejto kolobežky robí celkom slušný hybrid. Na jednej strane vhodná na asfalt, ale pokiaľ ti príde do cesty nespevnený ter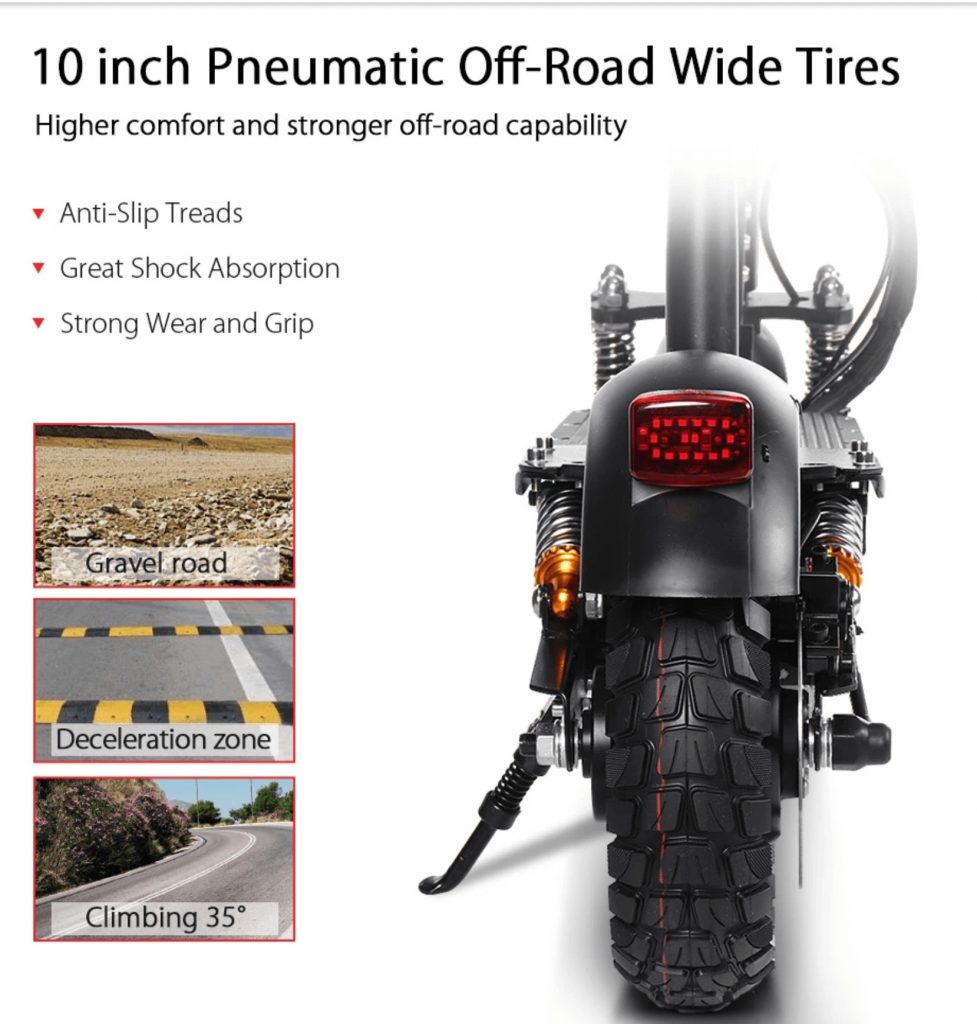 Dvojitý systém brzdenia u Laotie ES18P je bezpečný
Čo to vlastne znamená? V prvom rade táto kolobežka obsahuje kvalitné hydraulické brzdy, ktoré najmä pri vyšších rýchlostiach oceníš. Dokážeš aj veľmi efektne nastaviť sili brzdenia. Okrem hydraulických bŕzd, tu máme aj elektronickú brzdu, kde tiež vieš nastaviť intenzitu brzdenia.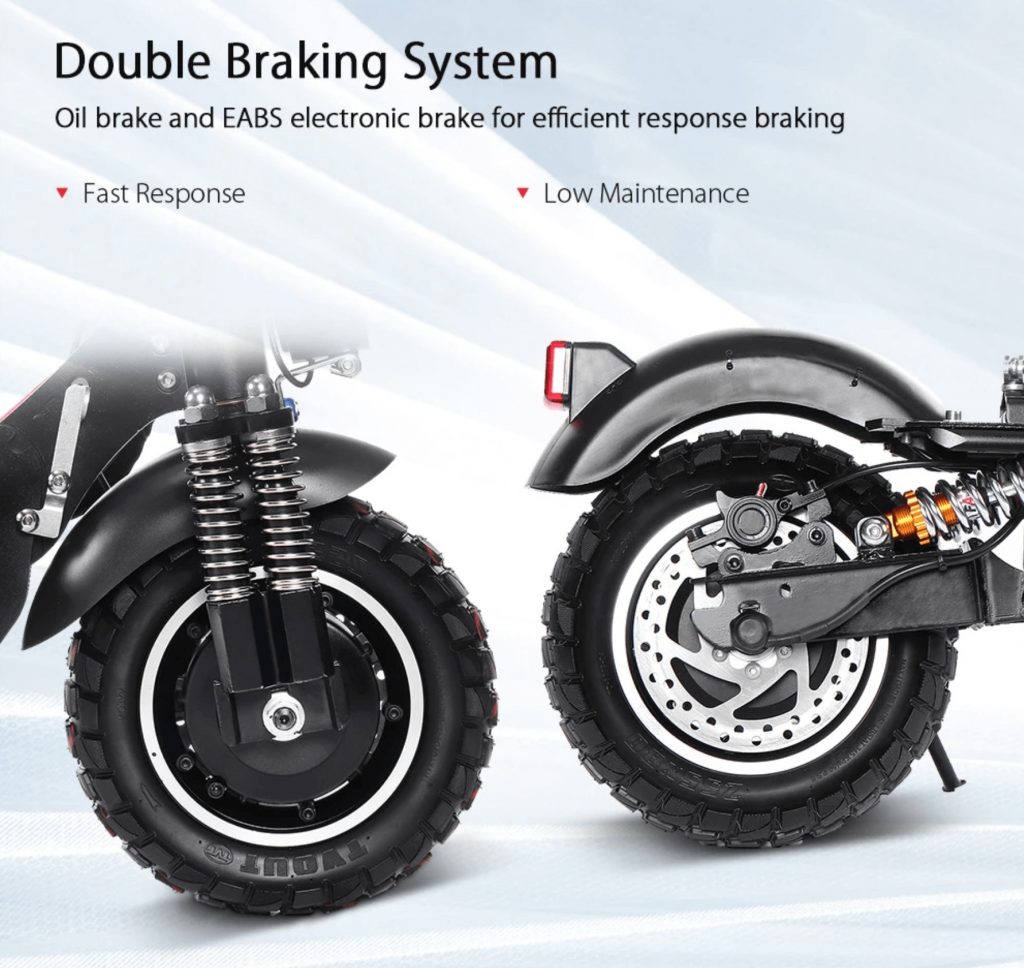 Vstavaný SMART displej zobrazuje dôležité funkcie
Displej ti ukáže, okrem rýchlosti, aj ako dlho trvá tvoj výlet, aktuálne prejdené kilometre ako aj celkovú prejdenú vzdialenosť na elektrickej kolobežke. Displej v ľavej časti (kde sa vkladá aj kľúč) znázorňuje počet voltov a teda v akom stave je batéria, toto je dôležitý údaj kolobežka sa vybíja približne pri 40,5V.
Displej v pravej časti ma ešte jednú zauímavú funkciu, že zo spodnej strany je možnosť pripojiť USB kábel a teda pomocou kolobežky dokážeš nabíjať svoj smartfón 🙂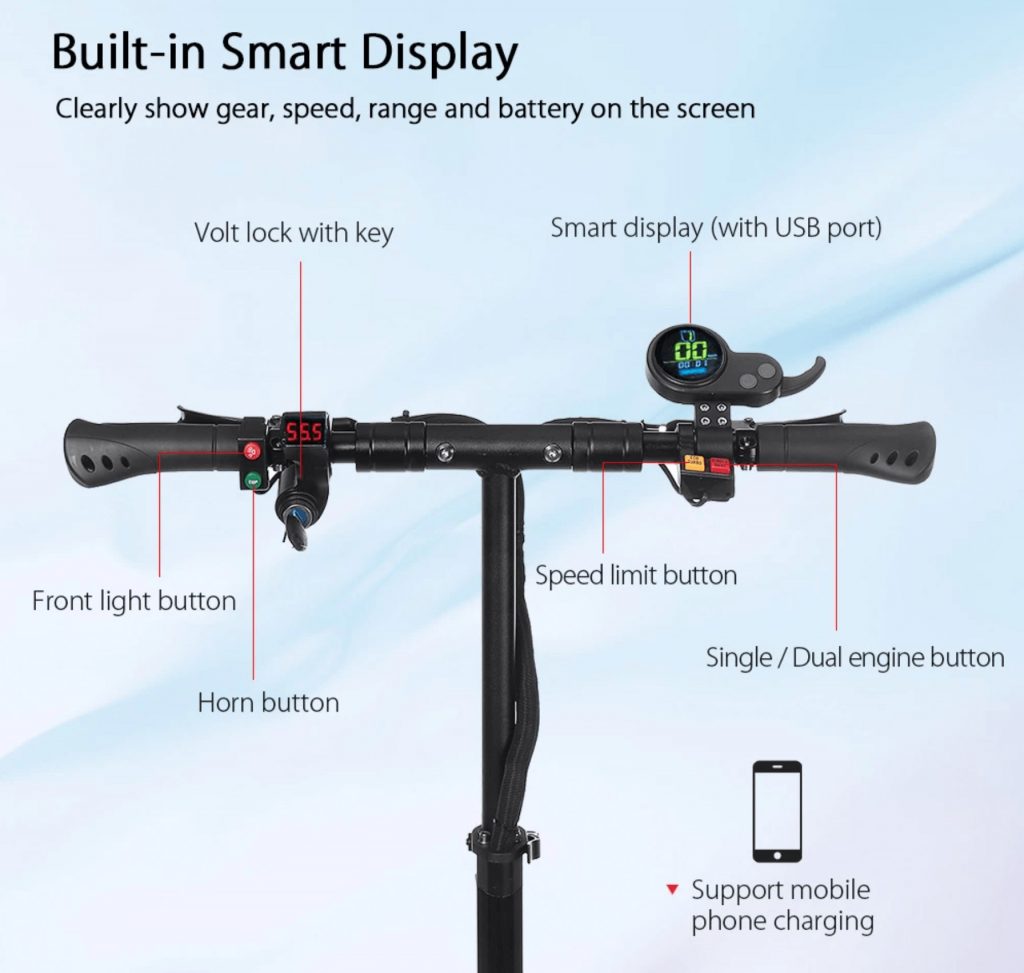 Svetlá a poriadný klaksón sú kľúčom k tvojej bezpečnosti
Nad predným kolesom nájdeš zavesené kvalitné LED svietenie, ktoré dokáže osvetliť cestu bez problémov na niekoľko desiatok metrov. Nad zadnym blatníkom sa nachádza zadné svietenie, na ktoré sa môžeš spoľahnúť, obsahuje aj funkciu varovania, čiže blikajúceho zadného svetla pri brzdení.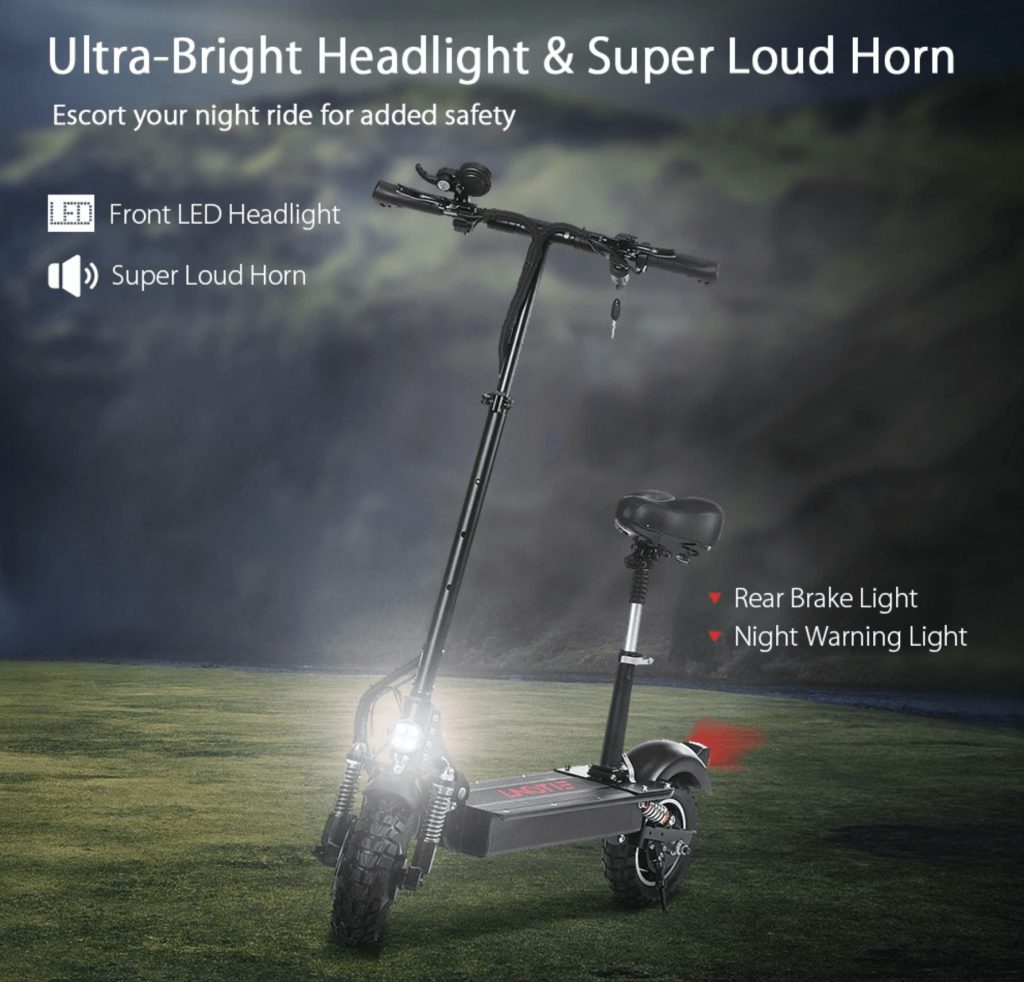 Pohodlnú jazdu zabezpečí dobré odprúženie
Jazdu na Laotie ES10 si užiješ aj vďaka štvorici kvalitných pružín, ktoré sú umiestnené po dvoch kusoch na oboch kolesách. Práve vďaka nim sa ti bude jednoduchšie prekonávať menšie obrubníky alebo iné nerovnoosti na ceste.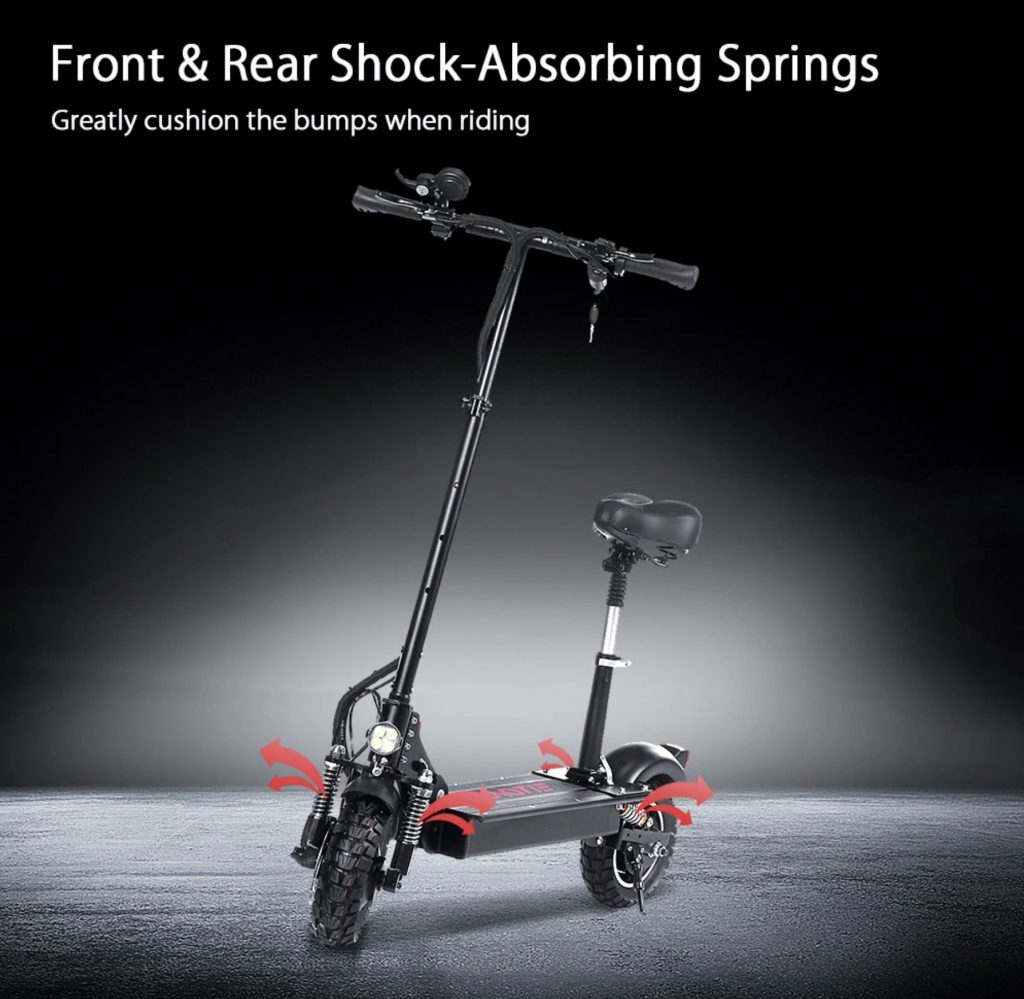 Ak si chceš pred kúpou pozrieť manuál pre Laotie ES10 nájdeš ho v anglickom jazyku tu.
Hľadáš recenziu na túto kolobežku?
zdroj: Banggood