Bezdrôtový tyčový vysávač Dreame V11 ponúka takmer všetko, čo od dobrého vysávača môžeš dostať. Kvalitná konštrukcia, množstvo príslušenstva a po novom aj displej, ktorý signalizuje stav batérie alebo kedy je potrebné vyčistiť filtre. Tieto všetky vlastnosti robia z tohto vysávača unikátného domáceho pomocníka.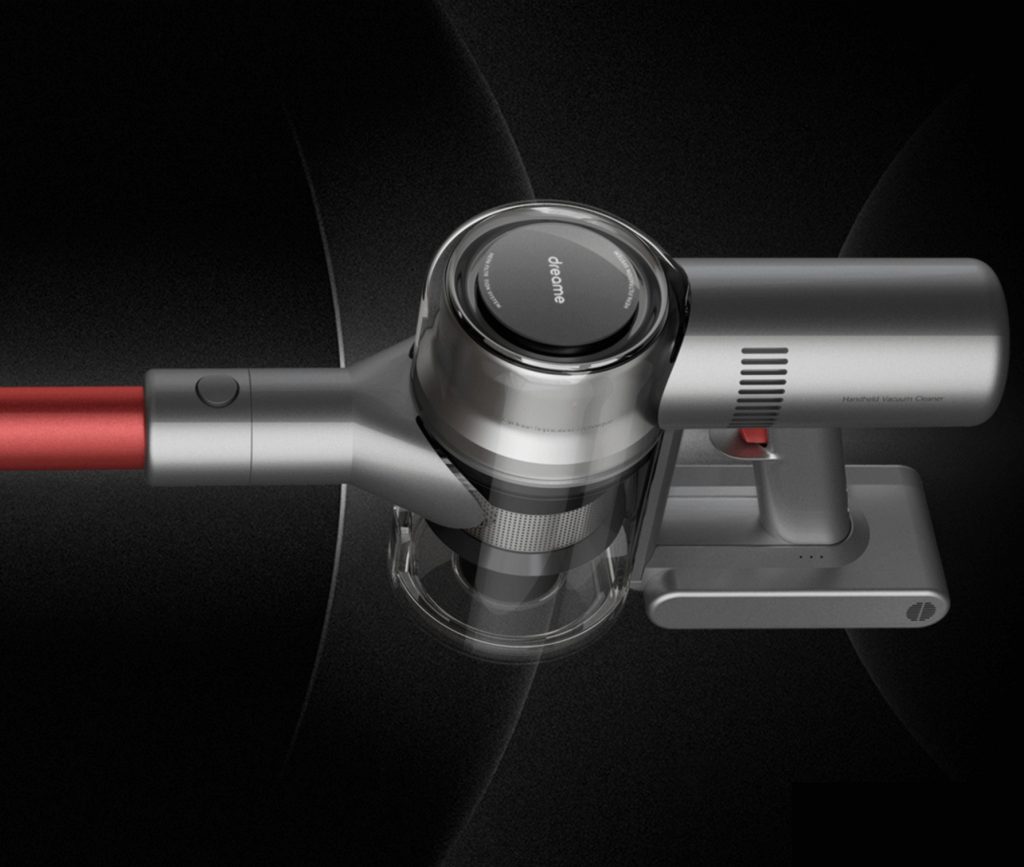 Máme pre teba špeciálny kupón
Dreame V11 je dostupný na EU sklade u populárneho obchodníka Banggood. My sme pre teba pripravili kupón v hodnote 129 EUR a tak kúpiš tento Vysávač z ekosystému Xiaomi len za 170 EUR. Doručenie je do 3-7 pracovných dní.
Dreame V11 patrí medzi najvýkonnejšie na trhu
Spoločnosť Dreame patriaca do ekosystému Xiaomi nedávno predstavila novinku s názvom V11. Disponuje viacerými vylepšeniami no najmä zlepšeným výkonom. Ten výrobca udáva až na 150W, čo je pre nabíjací vysávač naozaj slušné. Ak ti tento údaj veľmi nepomohol tak vedz, že zací výkon tu je až do 25 000Pa. S týmto výkonom hravo vysaješ kamienky, kávové zrná a podobné ťažšie nečistoty.
Výkonný motor založený na systéme 12 veterných víroch
V11 disponuje výkonným, vysokorýchlostným motorom. Tento motor je navyše kombinovaný s filtračným systémom založenom na 12 veterných víroch.
Vďaka 125 000 otáčkam za minútu, ktoré tento motor ponúka, je schopný nový bezdrôtový vysávač Xiaomi dosiahnuť sací výkon až 150AW. Vďaka tomu zachytí až 99,97% prachových častíc, vrátane tých najmenších.
Väčšia batéria znamená aj dlhšie vysávanie
Kapacita v tomto vysávači je 3000 mAh, čo je o 500mAh viac ako v predšlom modeli V10. To umožňuje vysávanie v ECO mode až 90 minút. Pri strednom zaťažení vysávača je výdrž na 30 min. a pri plnom zaťažení je to 10 min. Zo skúseností môžeme povedať, že najčastejšie budeš používať práve stredný režim. Práve na ňom vysaješ takmer každú nečistotu.
Pozri sa na našu recenziu
Množstvo užitočného príslušenstva
To, čo robí tento vysávač naozaj výnimočným je príslušenstvo. Elegantný držiak umožní udržať všetky dôležité nádstavce pokope a jednoduchým kliknutím môžeš zameniť kefu za rohový adaptér. V balení tak nájdeš spolu 10ks častí vysávača vrátane manuálu, ktorý je v Angličtine.